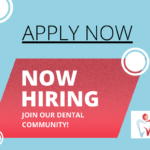 Job Detail
Job Description
Our growing practice is expanding office hours so we are looking to add additional full-time hygienist to our existing team who can provide excellent care for our patients.
Are you looking for an outstanding, private dental practice where employees are appreciated and well compensated? In our office, we have fun while doing what we love and the work days fly by.
Located in Westlake. We provide state-of-the-art dentistry including surgery, implants, orthodontics, dentures, and cosmetics.
Positive attitude required
2 years of experience preferred but willing to train somebody with a great personality. Anesthesia certification is also preferred. Candidates interested in joining our Smile Team please include a resume.
Job Type: Full-time
Salary: $36.00 – $42.00 per hour
Benefits:
401(k)
401(k) matching
Dental insurance
Employee discount
Flexible schedule
Health insurance
Paid time off
Vision insurance
Schedule: 6 Hour Shift to allow for optimum work/life balance!
Monday 1-7
Tuesday 8-2
Wednesday 8-2
Thursday 8-2
ONE Saturday a month 8-12
Supplemental pay types:
Work Location: One location
Other jobs you may like