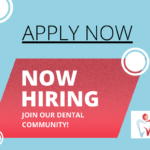 Job Detail
Job Description
Seeking PRN hygiene coverage during two different maternity leaves:
Thursdays in August/September/October.  
Thursdays OR Fridays in December/January/February (flexible on which day)
Friendly, helpful staff in small private practice.  One owning dentist and two hygienists.  Not in network with any insurance plans.  One hour lunch. Digital radiographs.  Wonderful patients.  60 min or so for typical prophy.
Thursdays: hours are 7-5 with lunch from 1-2
Fridays: hours are 7-2 and takeout brunch provided
Other jobs you may like