Guest Blog: What Does Dental Professionalism Mean To You?
A big part of being a great dental professional is how you present yourself. Right or wrong humans take the first 30 seconds upon meeting you to form an opinion about you. What do they have to go by? Your dress, your smile, your posture, and your overall image.
The way you look and carry yourself speaks volumes to those around you. You can gain instant credibility by looking put together and appropriate for all occasions. Studies show that well-dressed people are more confident and respected by their colleagues. Your work wardrobe is a huge part of this and if you haven't put much effort into your uniforms it shows. Think about what image you want to project? We are highly skilled, highly educated professionals and we need to dress the part. You have worked so hard to get to this point, you want your patients to feel confidence in you and respect you. By paying careful attention to details, you can gain automatic respect from your patients and coworkers.
When dressing for work here are things to think about:
Comfort: Pick temperature regulating, antimicrobial fabrics and fabrics that move with you (spandex). When trying them on move like you would at work.
Safety: Follow infection control guidelines at all times! Wear scrub caps,dental jackets, gowns and radiation protection.
Professionalism: Studies show that professionals wearing lab coats gain instant respect from their patients.
Image: Project confidence but let your personality show through. High quality scrubs with fun themed socks is one example.
Role: Dress for your position. Are you the doctor? Wear a white lab coat with your name embroidered. Do you work at the front? Dress in a nice blazer, dress shirt and pants.
Neatness/Cleanliness: Look clean at all times! Hair pulled back, short facial hair, minimal jewelry and makeup, no fragrances, clean shoes, and spotless uniforms.
Proper fit: Are your patients seeing things they shouldn't? Wear tops and pants that are long enough and not too tight or too baggy.
Durability of fabrics: Pick fabrics that will not fade, shrink, or wrinkle. These are fabrics that contain some polyester or rayon. Pay more for uniforms that will last the test of time.
So put on that nice white lab coat with your embroidered logo, your awesome fitting scrubs with matching socks and cap or your best business attire and conquer your day. Look great, feel great, be great!
"I believe that when you feel better about how you are dressed you carry yourself better, perform better, and project a more professional image to your patients and colleagues". Debora Carrier, CEO/RDH
DenTemp and Twice As Nice Uniforms share the common goal ofimproving dental practices. DenTemp ensures quality staffing, optimizing patient care, and operational efficiency. Twice As Nice Uniforms enhances the professional appearance of dental teams, positively impacting patient perception and confidence. Through collaboration, DenTemp and Twice As Nice Uniforms highlight the innovation driving the dental industry. Whether
it's introducing new staffing models or showcasing cutting-edge scrub designs, they position themselves as trendsetters.
About the Guest Blogger: Debora Carrier, CEO/RDH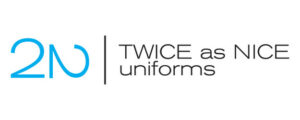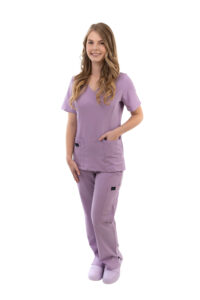 Debora Carrier, RDH
Founder and CEO Twice as Nice Uniforms
Cofounder CPR Sisters
International Spokesperson Crest Oral B
Board Member DEW
Debora has over 40 years' experience as a clinical dental hygienist. Her clinical settings range
from large group practices to smaller offices, specializing in the care and treatment of adults
with mild to severe disabilities.
In 2014 Debora developed and patented temperature regulating uniforms and founded Twice as Nice Uniforms. In addition to her many years working as a dental hygienist she was also a high fashion model. She took her experience and love of fashion to NYC where she worked with mentors and industry experts in fabric, fit, and manufacturing. Thus, creating technologically advanced medical and dental apparel that is safe, professional, comfortable, and stylish.
Debora believes in supporting and mentoring everyone she can especially dental entrepreneurs. She represents several products developed by dental professionals and partners with many dental groups. As a KOL and International Spokesperson for Crest Oral B she has appeared in international implant videos and on television with Good Morning America, Dr. Phil and The Doctors. She is a member of ADHA, OSAP, EO, Launchpad and a board member of Dental Entrepreneur Woman. Her program Twice the Life donates gently used uniforms to dental mission trips.